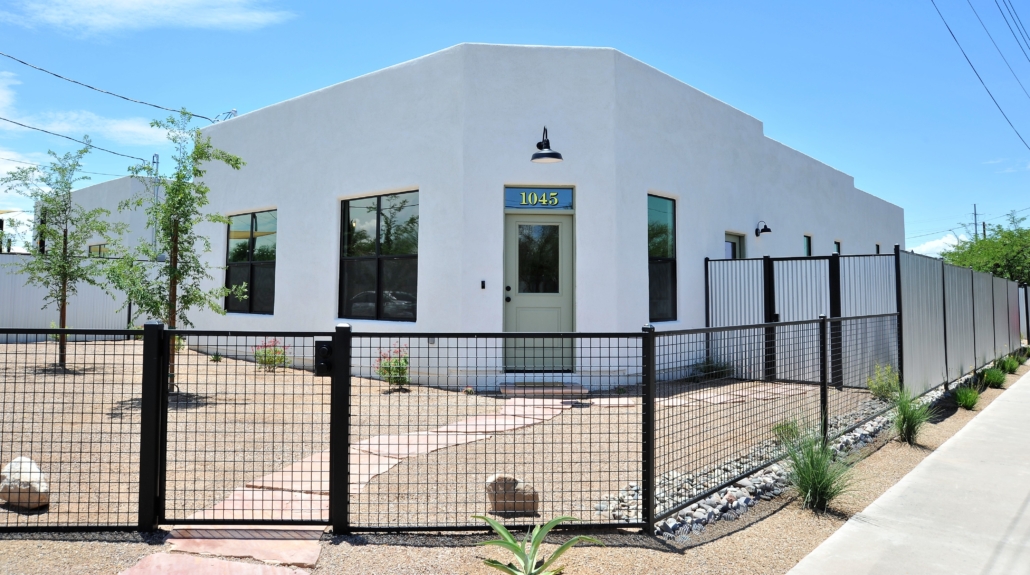 The Corner Market
New single family home on prominent corner lot with rare C-1 zoning in Barrio Anita. Urban infill new construction with corner-market entrance and design. High-quality efficient 2×6 construction with closed-cell foam (roof) insulation for a very quiet and solid feel.
Large great room with 12′ ceiling height, kitchen with island, laundry room with pantry & storage, guest bath, 2 large guest bedrooms with ample storage, and a private master suite with porch.
Design features concrete floors, exposed beams, high ceiling height, engineered quartz counters, modern cabinetry and beautiful lighting. Includes refrigerator, dishwasher, gas range, washer, dryer, tankless hot water, and HVAC with gas furnace. Fully landscaped with timed-drip, auto-gate for secured off-street parking.
Barrio Anita
Historic Neighborhood
Near Downtown & Mercado
University of Arizona
Bike Friendly
Urban Infill
Property Highlights
On historic Anita Avenue in Barrio Anita
Prominent corner lot
New construction with 2 year builder warranty
Market-style corner entrance
High ceilings & exposed beams
Concrete floors
Quality finishes & execution
Private fenced outdoor area with landscape
Gated off-street parking