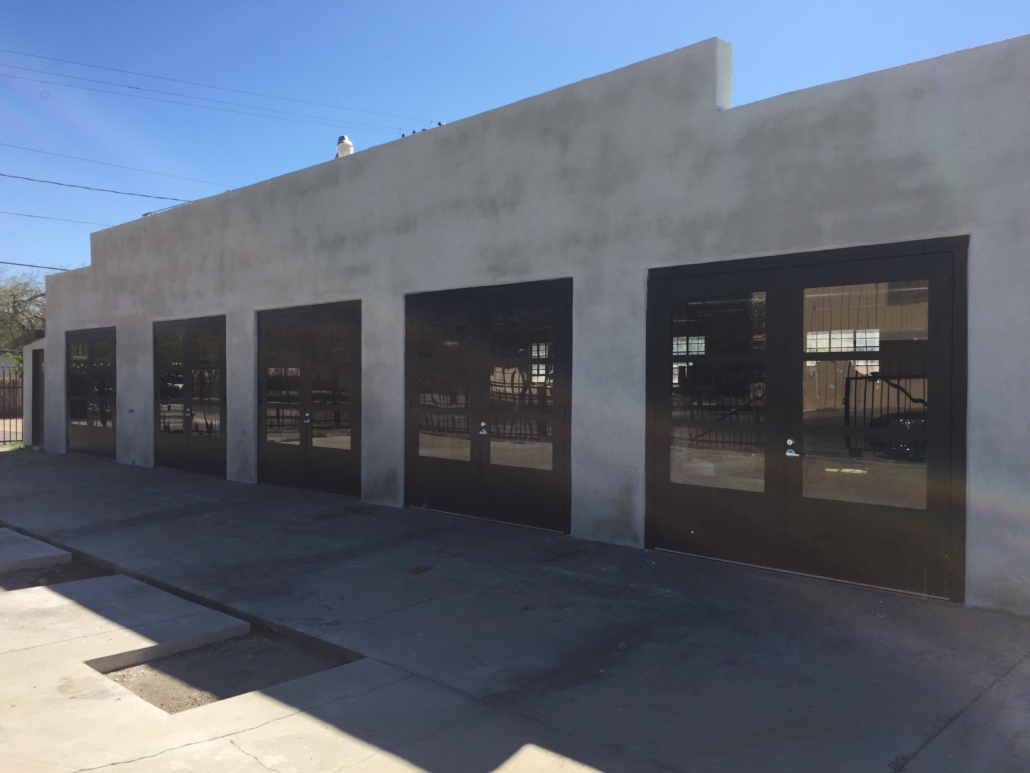 The Station
The exciting aspect of restoring old urban properties is to realize the potential of writing the story anew if you will, to honor the past, yet add vitality and relevancy so new life and local energy emerge for years to come. This is why we are so proud to announce the latest acquisition for Southwest Urban, a gas service station (circa 1936) and a companion brickyard type garage building (1954), on a 12,000 SF parcel on 6th Avenue just south of the popular 5-Points area.
The beautiful architecture and arched windows of the property have been restored with new custom steel doors to provide a basis for the new design of the buildings. The mission tile roof of the gas station building has been completed with authentic tiles in the old world tradition. Tree wells have been cut in the concrete and we'll be installing a series of shade trees and irrigation lines for the landscape. The next major improvement will be plastering the exterior of both buildings and adding industrial barn lighting.
The property is located in the Amory Park neighborhood with homes directly adjacent to the property and those nearby often exceeding $200 per SF and $300K in price. Making the mixed-use potential of this property a very interesting aspect, as the garage building has the quintessential industrial urban dwelling style and is on the quieter 19th Street. The gas station seeks to play off the local support enjoyed by the Five Points Market, as a new local gathering spot will make the area more interesting for everyone.
Our redevelopment plan has us considering the option of splitting the property into 2 parcels where the use and design of the buildings can be individualized and promoted for their respective qualities.  Our vision for the gas station is to create a shaded outdoor patio area as a local gathering spot; and, with the 5-bay garage we envision the possibility of creating an urban residence with a natural live/work appeal. This project was purchased prior to our completion.