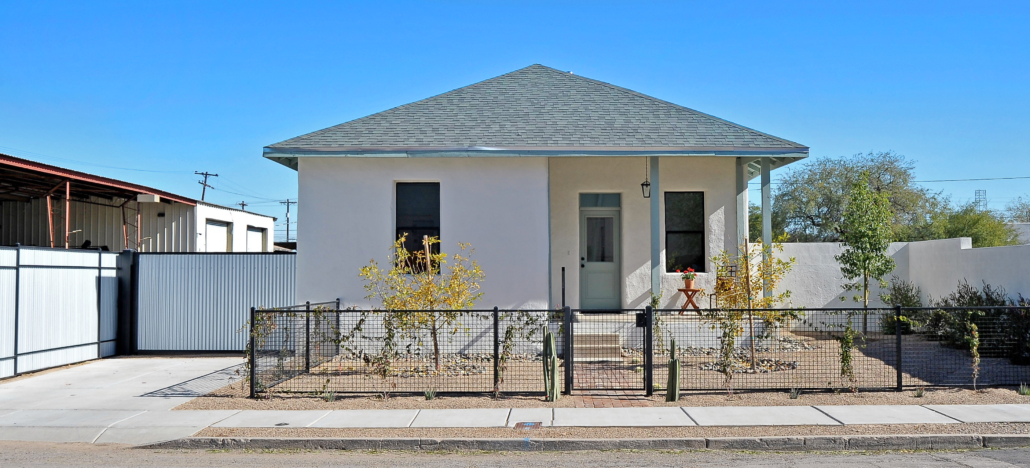 Adobe Bungalow Reboot
Located on Park Avenue in the Lost Barrio shopping area near downtown Tucson and the University of Arizona. The area features an eclectic mix of businesses including Colonial Frontiers, Welcome Diner, Romas, The Mark, and many others. Uniquely positioned in a quieter area bordering Barrio San Antonio, a historic residential area, making it an ideal live/work property.
The property consists of a mud-adobe territorial style bungalow and a detached building with a 1,800 sf footprint and height of a 2-story building.
Authentically restored mud adobe home with a classic Tucson style! New kitchen bistro, bathroom, and mixed-use office addition. Beautiful living space (+/- 1,286 sf), formal living and dining rooms, 2 bedrooms, 2 baths, office, and a new kitchen/entertaining space. All new infrastructure includes a complete remake of the home: electrical, plumbing, HVAC, roof, windows and doors – featuring a classic Southwest Urban style.
The large garage structure is a value-add opportunity for the new owner to create their vision for its use. This versatile building can be repurposed to work in many ways – creative, warehouse, co-work, living, office, gallery, workshop, gym, storage and more.
Lost Barrio
Historic Neighborhood
Shopping area for upscale home goods
Bike Friendly
Urban Revitalization
Property Highlights:
On historic Park Avenue in Lost Barrio
Restored adobe bungalow and mixed-use building
Classic territorial style with new addition
Detached (extra) building has value-add potential
Extra building has many potential uses (has power & water)
New infrastructure HVAC, plumbing, electrical
Private fenced outdoor area with landscape
Gated off-street parking