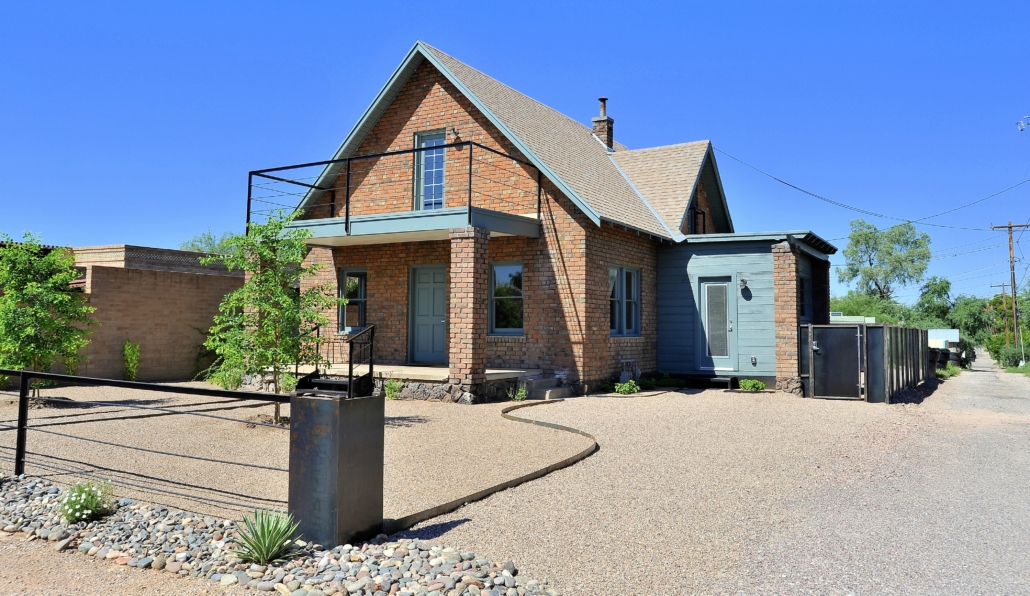 Vintage Character & Design
This home has received a comprehensive renovation that added all new systems and infrastructure in a thoughtful and discrete manner, while preserving and enhancing the original qualities so sought after. The home is located in Sam Hughes, one of Tucson's most desirable and stylishly eclectic neighborhoods, with close proximity to the U of A while in a quiet neighborhood with historical significance.
The 2-story brick home with studio/garage has been rebuilt with interior wiring / plumbing (water, drains, gas), a split HVAC system with new ductwork, and tankless water heater. The rail and panel steel fencing is designed to capture an urban aesthetic yet blend with the old to increase privacy and overall parcel utilization. The studio/garage is an incredibly versatile air-cooled space with an industrial design featuring heavy steel framework, barn doors, electricity, and natural light. The entire property has been landscaped and is on a timed drip-irrigation system.
The interior has been restored and restyled with a Southwest Urban flair. Original wood floors, cabinetry, and woodwork speak to the past, while the spiral staircase, engineered quartz surfaces, and upscale appliances are modern additions. The blending of historic friendly materials and design brings the whole package together with an energetic checkerboard VCT floor, thoughtful lighting, tile work, and bathroom fixtures.
There are 2 bedrooms and bath downstairs, while upstairs a private master suite encompasses the entire second floor – including spa bathroom, large east-facing balcony, and an extra room with adaptive use. The vaulted ceilings, hewned beams, and high-quality LED cable track system in both rooms of the suite deliver the style you expect.
Sam Hughes Neighborhood
Historic Property
Bike Routes
University of Arizona
Modern Streetcar
Shopping / Restaurants
Property Highlights
3 Bedrooms / 2 Bathrooms / Main house 1,381 SF
Garage with live/work/play potential – approx. 400 SF
Original wood floors, cabinetry, woodwork
Kitchen with quartz counters and upscale appliances
Includes front-load washer and dryer
Industrial staircase / Steel fencing
Private upstairs master suite
Master has luxury bathroom / closet / private balcony
New HVAC system
Southwest Urban design style